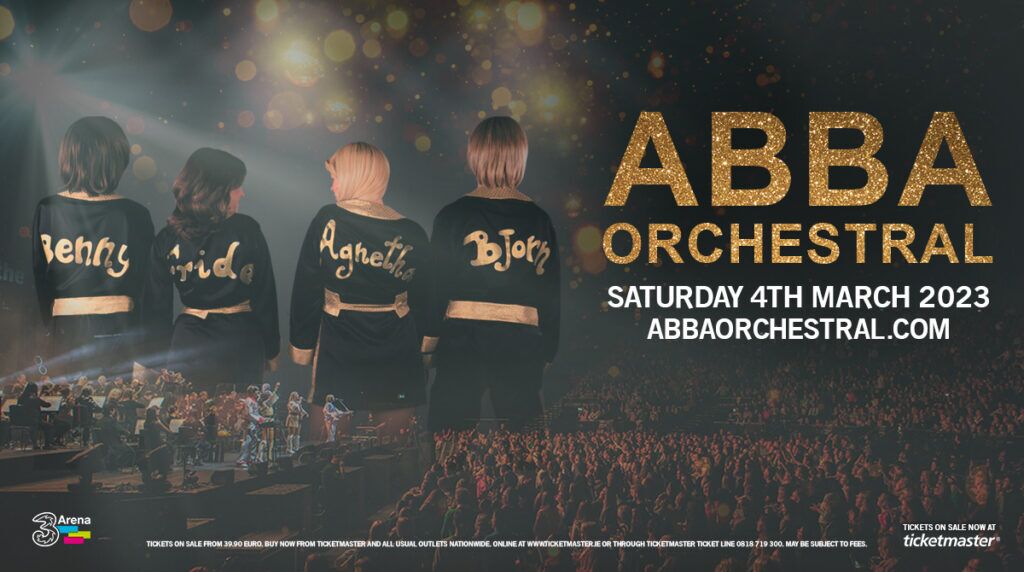 Back by popular demand to 3 Arena, Dublin Saturday 04 of March 2023
The World's greatest ABBA Party returns to electrify Dublin's 3 Arena on 04 March 2023.
Following the phenomenal success of ABBA Orchestral's sell out shows at Dublin's 3 Arena, this spectacular show returns for a very special performance on Saturday, 04 March 2023. ABBA Orchestral will astound their Dublin audience with the iconic hits of the Swedish 70s pop sensation, and with lots of surprises in store, this is an experience not to be missed!
ABBA Orchestral, the smash-hit stage production of ABBA's Greatest Hits, features an extensive cast and crew, including the amazing Waterloo Concert Orchestra, expert musical direction, amazing backing vocals and, of course, the world renowned ABBA performers, delighted to be returning to the city where it all started. Fusing fresh arrangements of ABBAs major hits, unmistakable costumes, impressive harmonies and full audience participation with mega screen karaoke, Dublin will dance, jive and have the time of its life at the largest ABBA party the World has ever seen.
This is not a concert, it's an experience.
Growing in massive popularity since it's first performance in Dublin in 2020, the show has been well received to critical acclaim with Pamela Joyce of Today FM declaring the 2022 show "the greatest night of my life…honestly, I don't think I'll ever be the same again…it was the most fun I've ever had…I didn't stand still once".
A production like no other, this show will astonish orchestra and pop fans alike with dazzling graphics, stunning staging and special effects to compliment well-loved hits like Gimme Gimme Gimme, Take A Chance, I Do, I Do, I Do, Fernando, Mamma Mia, Waterloo, Dancing Queen, Voulez Vous, Super Trooper, Money, Money, Money, The Winner Takes It All, I Have A Dream and Thank You For The Music plus many more! Fans will remember the resonating rendition of Lay All Your Love On Me. Don't miss this unique opportunity to party the night away ABBA style with ABBA Orchestral in an unrivalled party atmosphere.
Tickets are on sale next Friday in all Ticketmaster outlets nationwide. Extremely limited standing tickets available for Dancing Queens!
Tickets on sale Friday, 22 of April 2022, from €39.90. Book your tickets through all usual Ticketmaster outlets,
                   *************************************
ABBA are one of the most celebrated pop bands of all time with record sales of over 385 million and over 40 international chart-topping hits. Continuously inspiring pop culture over forty years after their release, songs like Dancing Queen, Waterloo, Take A Chance On Me, Voulez Vous, Knowing Me, Knowing You and many more have earned ABBA a place in the Top 20 Biggest Selling Groups of All Time* with one of the largest and most diverse fan bases in the world.
Tickets on sale Friday, 22 of April 2022, from €39.90. Book your tickets through all usual Ticketmaster outlets, online at http://www.ticketmaster.ie/ or through Ticketmaster ticket line 0818 719 300. May be subject to fees.
*The Official Charts